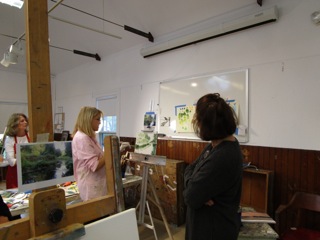 BSDLATRACT PAINTING
THURSDAYS 1:00 TO 4:00
FROM REALISM TO ABSTRACTION SPRING 2022
SESSION 1-- MARCH TO APRIL


SESSION 2 --MAY- JUNE
THE CLASS IS DESIGNED TO ENABLE THE STUDENT TO GROW IN CREATIVITY WHILE LEARNING HOW TO CONSTRUCT A DYNAMIC ABSTRACT WORK OR A MORE DRAMATIC REALISTIC WORK.
MODALITIES FROM THE RENAISSANCE TO CURRENT INNOVATIVE APROACHES WILL BE TAUGHT.
MARK MAKING, COLOR THEORY AND MIXING WILL BE TAUGHT.
THERE WILL BE ONE ON ONE INSTRUCTIONS AND DEMOS.
THE SECOND SPRING SESSION STARTS IN AMY AND CONTUNES THROUGH JUNE.
SIGN UP ON THE ROWAYTON ARTS CENTER'S WEB SITE:
WWW.ROWAYTONARTS.ORG
203 866-2744
---