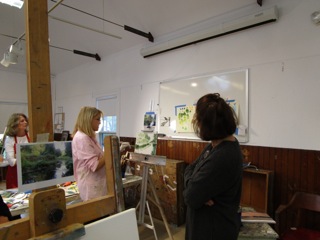 BSDLATRACT PAINTING
THURSDAYS 1:00 TO 4:00
FROM REALISM TO ABSTRACTION
SESSION 1-- SEPT 9 --OCT 21
THE CLASS IN THE RAC STUDIO IS FULL BUT THE CLASS WILL BE ON ZOOM AT THE SAME TIME - So you can watch and join in the whole class via Zoom.

PLEASE CONTACT THE ROWAYTON ARTS CENTER TO SIGNUP.-- SEE BELOW

THE CLASS IS DESIGNED TO ENABLE THE STUDENT TO GROW IN CREATIVITY WHILE LEARNING HOW TO CONSTRUCT A DYNAMIC ABSTRACT WORK OR A MORE DRAMATIC REALISTIC WORK.

MODALITIES FROM THE RENAISSANCE TO CURRENT INNOVATIVE APPROACHES WILL BE TAUGHT.
MARK MAKING, COLOR THEORY AND MIXING WILL BE TAUGHT.
THERE WILL BE ONE ON ONE INSTRUCTIONS AND DEMOS.
SIGN UP ON THE ROWAYTON ARTS CENTER'S WEB SITE:
WWW.ROWAYTONARTS.ORG
203 866-2744
---